Welcome to The Wood Reserve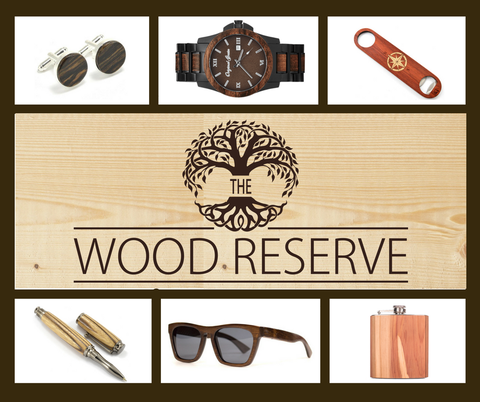 There's a refined quality to wood that has made it a material to withstand the ages. Its variation of colors and strength, the diverse ebb and flow of its grains…wood of any type brings a level of uniqueness to products that can't be duplicated.
While consumers are used to finding wood products in certain genres such as furniture and home décor, there's an expanse of items available that truly push the envelope.
The Wood Reserve is an online retailer that is proud to offer its shoppers a selection of products that can't often be found other places. If you're looking for something that can't be picked up at your local department store, then look no further.
Ryan and Kristen Bergeron, the owners and founders of The Wood Reserve, have a deep admiration for the potential that can be found in a piece of wood. Every cut is a blank canvas that is used to create something distinctive and memorable. As a woodworking hobbyist, Ryan understands the time and effort that goes into these creations and is excited to offer them to each of you.
Many of the items for sale on The Wood Reserve, such as the watches, sunglasses, and bowties are handcrafted in the USA from the finest solid woods available. Many of our vendors even offer a wide array of products that come in rare, exotic woods.
We're also excited to showcase various options that are made using recycled materials. A few of our vendors use recycled whiskey barrels and skateboard decks to provide us with a unique collection of one-of-a-kind items.
 When you shop amongst our incomparable inventory of wood products, you are not only receiving stylish alternatives to traditional items like jewelry, flasks, and ink pens, but you are also receiving the confidence that comes from choosing things made from durable wood materials.
In recognition of the depleting wood sources the world over, we have partnered with an incredible organization called Trees for the Future that will help us promote sustainability for our planet. For every item that you purchase, we will plant one tree on your behalf. With your help, we feel that we can truly make a difference.
We're thrilled that you've taken a moment to stop by. Take a look around and enjoy; we hope you'll be as excited about our products as we are.
When you purchase an item from The Wood Reserve, you're not just getting a run of the mill product. You're becoming the owner of a statement piece that will most certainly turn a few heads.
Where traditional wood meets modern lifestyle – Welcome to The Wood Reserve.
---
Leave a comment
Comments will be approved before showing up.