Understanding Build Times: Why Does Amish Furniture Take Longer to Ship?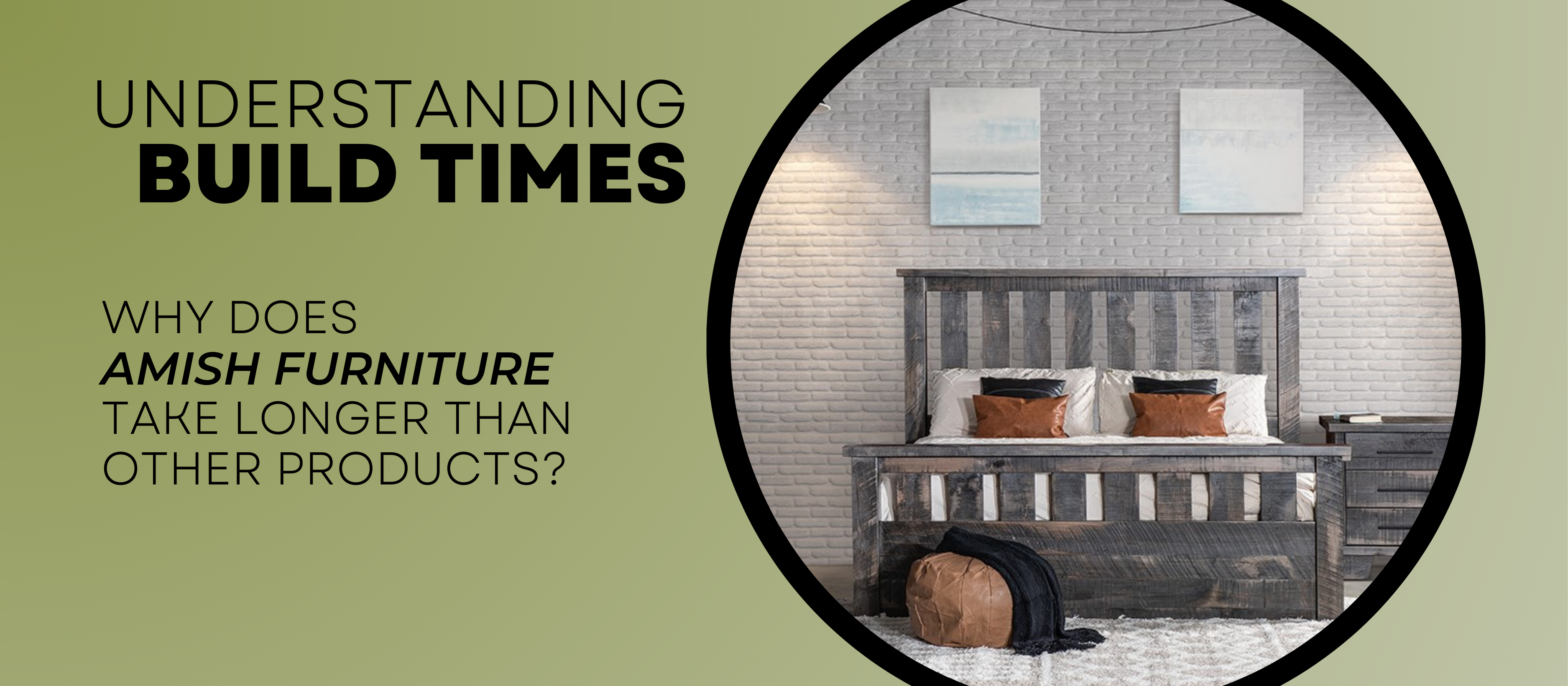 You're shopping for furniture and find the perfect piece for your home. However, before you hit the "Buy" button, you notice that it will probably take a couple of months to get to you. 
Many of us might feel discouraged about waiting for something we're purchasing. After all, we live in the "Amazon Prime" era and are used to receiving items within a day of buying them.
The important thing to remember is that shopping for Amish furniture is different from purchasing from mass-production, big box stores, though. 
At The Wood Reserve, we take pride in partnering with some of the most reputable Amish furniture makers in the United States. They put immense time, care, and energy into their products to ensure customers receive high-quality pieces that will last years.
But why do they take longer? What about the furniture building process makes build times much higher than other stores?
If you're trying to understand how our processing times work, you've come to the right place! Take a look at the information below to understand why our products take more time than places chain furniture stores we're used to. 
The Top Reasons Amish Furniture Takes Longer to Receive
The Amish furniture build process is fine-tuned, dependable, and reputable. It also requires more time than products coming off a conveyor belt. Look at the list below to learn why it takes so long to deliver Amish furniture.
 1. Quality Materials
Look at any piece of Amish furniture, whether a mid-century modern bed or shaker-style dining room hutch, and you'll notice one thing straightaway - they're ALWAYS built from solid wood.
Our furniture makers don't settle for less than the best when it comes to the materials they use. For instance, you won't find any particle board in an Amish dining table.
It sometimes takes time to source these materials, though.
But rest assured, this is a good "problem" to have. It means our woodshops are working diligently to ensure you receive long-lasting wooden products you can rely on. 
2. Manual Build Techniques
Once our woodshops find the ideal piece of wood for your product, they won't just slap it in a machine and let technology do the rest. They use various hand tools to shape, design, and construct your furniture. Yes, this takes longer but also decreases the risk of mistakes. 
When you're shopping for furniture at a chain or big box store, what you see is what you get. So, if you find the "right" product for your home but it's a little too tall or wide, there's nothing you can do.
However, many of our Amish furniture woodshops provide ample customization opportunities when you work with The Wood Reserve. From custom finish styles to design options, our team can ensure you receive exactly what you want and need. 
These customizations might tack on a few extra weeks to your build time, but in the end, you'll receive a piece that hits every item on your want list. 
4. Industry-Leading Attention to Detail
There's no denying that furniture is expensive. When making a big investment in your home, you deserve the knowledge that whoever makes your item cares as much as you do. Our furniture builders work diligently to exceed your expectations. 
While there are plenty of excellent reasons Amish furniture takes time, not everyone has the option to wait. If you'd like a piece, you can get a bit faster; no worries! We're thrilled to offer a top-rated collection of quick-ship products you can receive in as little as a few weeks. 
Contact The Wood Reserve to Learn More About How Amish Wood Furniture is Made
Do you still have questions about the length of time it takes to build Amish furniture? Let us help! 
Call us at (941) 201-4230 or email us at Contact@thewoodreserve.com to contact one of our friendly team members. We can help you understand everything there is to know about our pieces and which one is right for your home. 
---
Leave a comment
Comments will be approved before showing up.